As a courtesy to the Scheufler Law clients, you may make your payments online using your Visa, MasterCard or American Express through the secure online payment processor, LawPay by clicking on the PayNow button below. Please note that this service is for existing clients only. In addition, due to bank processing times, it may take 2-3 business days before your account reflects your payment.
View Terms and Conditions.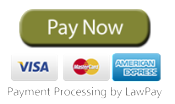 Thank you for your payment.